Sharon Hunt
brings with her over twenty-three years of experience specializing in emergency services, first responder roles, and emergency care instructional programs. It was her passion for patient care that inspired Sharon to create a company that would provide emergency medical training for individuals in pre-hospital settings.
Her extensive background includes positions held in the provincial government, police services, emergency medical services, educational institutions, social services and the private sector. While workplace Health & Safety remains her passion, her professional training in Human Resources Management, Critical Incident Stress Management and Crime Prevention also keep her busy, in addition to pursuing the Canadian Registered Safety Professional (CRSP) designation.
Accreditations and Affiliations:
* Active member of Human Resources Professionals London & District Association (HRPLD)
* Active member of Canadian Society of Safety Engineers (CSSE)
* Affiliated with National Association of Safety Professionals (NASP)
* Currently pursing Canadian Registered Safety Professional (CRSP) designation
Sharon works to ensure that safety standards are in place for the health and well being of individuals in the workplace. Sharon's practice involves workplace assessments, certification training, emergency preparedness drills, formulating policy and procedures, audits, coaching and critical incident stress management.
Earning the Fanshawe College Presidents Award in 2007, Sharon was again recognized in 2008 for academic and community excellence from Fanshawe College and the Human Resources Professional Association London District (HRPLD).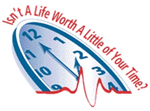 Sharon dedicates a great amount of time to volunteer projects. In 2008 she Chaired the London Middlesex Heart and Stroke Public Access Defibrillation (PAD) Program; served four years as Board of Director for Victim Services of Middlesex County; is currently secretary for HR Community Partnership Committee; and has accepted the portfolio of Volunteer Recruitment for a national charitable organization.

What Our Clients Say ...
After hiring Sharon to facilitate my class, it didn't take long to realize the wealth of knowledge and extensive training that she posesses. She was able to facilitate and keep the students engaged by providing real life examples and the importance of proper practical CPR and AED knowledge. I would highly recommend Sharon....She exceeded my expectations as a trainer!

Rob Foster

Golf & Recreational Club Management
This training program has given me the tools to allow me to want to be a responder to assist a person who is in need of medical assistance. I am pleased to have progressed from being an unknowledgeable bystander to becoming an individual who can confidently use time saving skills that may potentially save a life. Thank You!!

Christine Climent
Executive Administrative Assistant
Corlon Properties Inc.

Sharon's zeal and passion for CPR are effectively communicated as she clearly imparts knowledge applicable to both the inexperienced as well as the proficient. With a professional approach she captures the learner's attention in a creative and interactive manner. Promoting a supportive and encouraging atmosphere the student is drawn to embrace confidently their personal and vital role of impacting lives in the community with life saving measures! For over 10 years Sharon has provided me with my yearly recertifications. I cannot think of anyone I'd rather have.

Jill Hartwig
The Municipality of Central Elgin has had Sharon Hunt from Heart and Safety Training provide CPR/AED training for Parks and Recreation staff. The training was well prepared and professionally delivered. I would highly recommend Sharon Hunt for CPR/AED training.

Ron Richards

Recreation Superintendent

The Corporation of the Municipality of Central Elgin